Les Imprédictibles - Experiment · Premiere
OPEN SPACES - Corbusier, Felix Mathias Ott &nbsp
Uferstr. 8/23 | Badstr. 41a
13357
Berlin
Tickets from €15.00
Concessions available
Event organiser: Tanzfabrik Berlin e. V., Uferstr. 8/23, 13357 Berlin, Deutschland
Information on concessions
Ermäßigungen gelten für Tanzcard, ZTB Mitglieder, Schüler, Studenten, Arbeitslose, Sozialhilfeempfänger, Schwerbehinderte, Rentner.
Rollstuhlfahrer zahlen den ermäßigten Preis der entsprechenden Kategorie.
Event info
Im Rahmen von Open Spaces - Laughing & Loving

Das gemeinsame Interesse, mit unvorhersehbaren Situationen konfrontiert zu werden, brachte die Künstler*innen Corbusier und Felix Mathias Ott zusammen. Nach mehreren Treffen in einem Tanz- studio, bei denen sich gegenseitige Liebe, Respekt und ein künstlerischer Austausch entwickelten, beschlossen sie das Projekt »Les Imprédictibles« anzugehen. Ein Duett zwischen Mensch und Katze. Innerhalb dieser Konstruktion werden sie die Unvorhersehbarkeiten ihrer Zusammenarbeit unter- suchen. Die Entfaltung ihrer Beziehung wird dabei zu einer choreografischen Architektur, in der das Konstruktionsmaterial nur Integrität sein kann.

The dependencies, adaptations and alienations become a source of inspiration.

Konzept, Choreografie, Performance: Corbusier, Felix Mathias Ott | Künstlerische Beratung: Amandine Cheveau | Bühne: Felix Mathias Ott | Produktionsleitung: Inge Zysk | Dank an Daniele Drobny, Henrich Jelinek | Unterstützt durch apap-Performing Europe 2020, kofinanziert durch das Creative Europe Programm der Europäischen Union.

- - - - - - -

In the frame of Open Spaces - Laughing & Loving

The attempt of creating a moment of truth a goal to reach. The common interest in being confronted with unpredictable situations brought together the artists Corbusier and Felix Mathias Ott. After several sessions in a dance studio, where mutual love, respect and an artistic exchange was deve- loped, they decided to start the collaboration »Les Imprédictibles«, a duet between a human being and a cat. Within that construction they will explore the unpredictability of their collaboration. The un- folding of their relationship becomes a choreographic architecture where the material can only be integrity.

The dependencies, adaptations and alienations become a source of inspiration.

Concept, choreography, performance: Corbusier, Felix Mathias Ott | Artistic advice: Amandine Cheveau | Stage: Felix Mathias Ott | Production management: Inge Zysk | Thanks to: Daniele Drobny, Henrich Jelinek. Supported by apap-Performing Europe 2020, cofunded by the Creative Europe Programm of the European Union.
Location
Uferstudios
Uferstraße 23
13357 Berlin
Germany
Plan route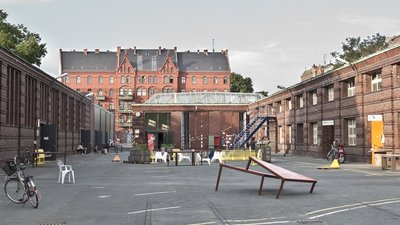 Früher befanden sich in dem schlichten Klinkergebäude im Wedding die Werkstätten der Berliner Verkehrsbetriebe, seit 2010 jedoch dienen die atmosphärischen Räumlichkeiten Tänzern, Künstlern, Studierenden und Dozierenden als einzigartiger Ort des Ausprobierens, Produzierens und Studierens.

Die Uferstudios liegen direkt am Ufer des Flüsschens Panke und bestehen aus 16 großzügigen Studios, Künstlerateliers und Büros, die Künstlern, Tänzern und Choreographen viel Freiraum für die Entwicklung und Umsetzung neuer künstlerischer Ideen und Methoden bieten und langfristige Entwicklungschancen sichern. Auch als Ausbildungsstätte werden die Uferstudios vom Hochschulübergreifenden Zentrum Tanz (HZT) gern genutzt. Ein künstlerisches Miteinander, das auch das Publikum einschließt, wird von den Uferstudios gewollt und unterstützt.

Die Uferstudios sind ein außergewöhnlicher, lebhafter und aufregender Ort, welcher vor allem als Produktionsstätte für zeitgenössischen Tanz dient und von neuen Ausdrucksweisen und Konzepten lebt. Diese treten in den Studios miteinander in Kontakt, verbinden sich und stellen so ihrerseits wieder Inspirationen zu originellen und unkonventionellen Möglichkeiten der Umsetzung dar.