L´Eclair
Frankenstr. 200
90461
Nürnberg
Event organiser: GkF - Gesellschaft für kulturelle Freiräume mbH, Frankenstraße 200, 90461 Nürnberg, Deutschland
Information on concessions
Einlass ab 16 Jahren nur mit gültigem Ausweisdokument.
Begleitung frei für Inhaber_innen eines Behinderten-Ausweises B.
Ein entsprechender Nachweis ist am Einlass unaufgefordert vorzuzeigen.
Event info
What can one expect of an album called "Sauropoda"? Think of it as a 2am youtube find. Or that weird looking soviet prog funk LP reissue you never dared to buy. It actually sounds more like a L'Eclair show. Most of the new album comes from deep jams the band road-tested following the recording of Polymood. Some of the tracks faithfully capture the live sound the band while the rest includes carefully crafted dance floor grooves, last minute studio fantasies and genuine late night jams. L'Eclair is about all those things. And things never sound the same twice. Sauropoda was recorded in the mountains with the band's live engineer Benoit "Gérard" Erard. In case anyone ever wonders about the way L'Eclair sounded in 2018, Sauropoda would be the correct answer. Proto-groove was born.
Now, where shall we head to, baba? Record at Le Gatillon on the 15th and 16th of October 2018 by Benoit "Gérard" Erard. Mixed by Benoit "Gérard" Erard at his parents' place in Leysin.
All songs written and performed by L'Eclair.
L'Eclair is:
Sébastien Bui – International Keys
Elie Ghersinu – Dino Bass
Stefan Lilov – Broken Wah Guitar
Yavor Lilov – Bronto Kick
Quentin Pilet – Bongos Driver
Alain Sandri – Mellow Lifestyle and Congas
DJ Laxxiste - 440 FX
Location
Z-Bau
Frankenstr. 200
90461 Nürnberg
Germany
Plan route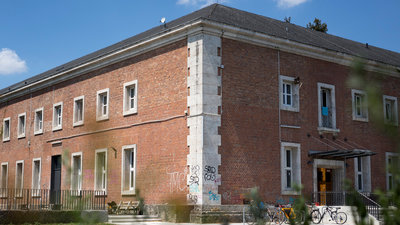 Das Kulturzentrum Z Bau in Nürnberg ist eine künstlerische Spielwiese, die kulturellen Freiraum für die unterschiedlichsten Projekte schafft und jeden herzlich willkommen heißt. In den großzügigen Räumen des Hauses findet von Partys und Konzerten über Ausstellungen bis hin zu Literaturveranstaltungen und anderen Kunstprojekten so ziemlich alles statt.

Auf bis zu 5.500m² bespielbarer Fläche leben sich die Künstler, ganz gleich ob bekannt oder Nachwuchs, ob regional oder international, aus und widmen sich gemeinsam den Bereichen Musik, Theater und Literatur. Insgesamt stehen vier Veranstaltungsräume, darunter der Rote Salon, sowie Ateliers, Studios und weitere Projekträume zur Verfügung, in denen Kreativität keine Grenzen gesetzt wird. So wurde auch der Kunstverein Hintere Cramergasse e.V. feste Instanz im Z Bau, der hier seit 2000 ehrenamtlich arbeitet und für alle Weltoffenen seine Tore geöffnet hat. Nur wenige Gehminuten von der Haltestelle "Frankenstraße" entfernt, befindet sich der Z-Bau in attraktiver Lage, für Besucher und Veranstalter!

Das Kulturgelände im Nürnberger Stadtteil Hasenbuck ist barrierefrei und verfügt außerdem über einen großzügigen Außenbereich, der Künstler und Besucher bei Sonne ins Freie lockt und das Angebot im Z Bau mit einem Biergarten perfekt abrundet.